What are the different types?
We're here to help you navigate through the plethora of confusing and contradicting information about cannabis oils. Perhaps you've even given up on trying to find a product that's right for you. That's why we aim to help make your experience as straightforward and enjoyable as possible, and strive to provide you with everything you need to know about the different types of cannabis oil and their different properties. Because oils extracted from any cannabis plant are called cannabis oils, we can understand why there might be some confusion. For example, hemp – or CBD – oil and cannabis – or THC – oil are both technically cannabis oils – and that's exactly why we've written this article that will hopefully help you understand everything about these products.
Cannabis oil is extracted from the cannabis plant, which contains 104 different chemicals called cannabinoids. The two most well-known cannabinoids are tetrahydrocannabinol (THC) and cannabidiol (CBD). While both are naturally present in both hemp and cannabis, there are several differences between these two plants.
CBD is often extracted from the hemp plant and only contains trace amounts of THC. The hemp plant is legal and can be cultivated in most European countries, including the Netherlands. THC, however, is usually extracted from the cannabis plant.
There is still a lot of confusion and misinformation regarding cannabis oils. While it's true that both THC oil and CBD oil can be referred to as "cannabis oils" because both the marijuana and hemp plant belong to the same species and genus, they are entirely different products. The collective term "cannabis", then, is used for many purposes.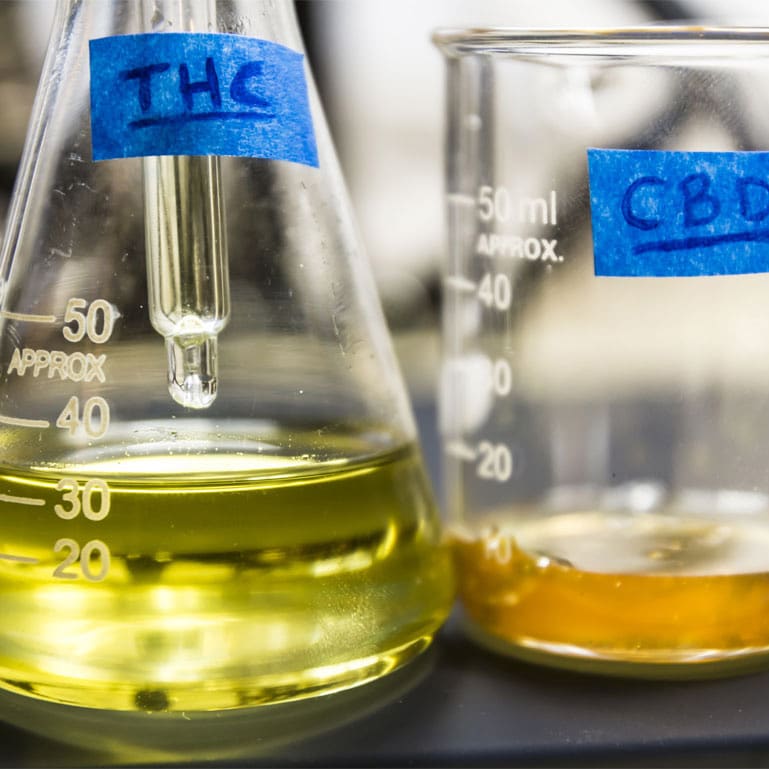 Is there a difference with THC oil?
THC oil also referred to as cannabis oil, is derived from the cannabis plant and contains high levels of THC. Due to the fact that THC is known for its psychoactive properties, THC oil is not legally available in the Netherlands. Rick Simpson oil is a type of cannabis oil that contains high levels of THC, a compound that falls under Schedule II of the Opium Act. In the Netherlands, medicinal cannabis is only available on prescription. While it's possible to produce your THC oil, doing so comes with certain (legal) risks.
Cannabis oils can be extracted in several ways. CBD oil, for instance, is often produced through CO2 extraction, which involves using carbon dioxide to remove THC. Thus, CBD oil only contains a small amount of THC and is not classified as a controlled substance.
THC oil is often created through ethanol extraction, which utilizes ethanol as a solvent. After soaking the plant materials in this solvent, the ethanol is evaporated, leaving a potent cannabis extract with no solvent. This extract is subsequently blended with a (neutral) carrier oil, such as olive or hemp seed oil. Cannabis oils are commonly diluted by a factor of five.
Identifying the medical applications
Cannabis' illegal status also makes it difficult to find funding for research. Because CBD, unlike THC, is legal, much more research has been done into the medicinal value of the former. Although scientific research into the therapeutic applications of CBD oil is ongoing, there has been too little research evidence to draw any firm conclusions as of yet.
Cannabis oil, sometimes called THC oil, contains a high concentration of THC. There is no single correct dose of CBD: the "right" dosage varies per individual, depending on their age and their weight, among other factors. The most prudent approach is to start low and go slow. For example, you could start with 2 drops a day, preferably after a meal, and spread over the day. It is important to observe how your body reacts. If needed, you can experiment with different dosages by gradually increasing your intake as you see fit.
What are the active ingredients?
The cannabis plant is easy to recognise from its little hairs. The tips of these specialized plant hairs secrete a certain liquid that is chock-full of active compounds called cannabinoids, which are a collective group of compounds that act on cannabinoid receptors. Today, some of the most well-known cannabinoids are tetrahydrocannabinol (THC) and cannabidiol (CBD). The former is known for its psychoactive properties and is often used for recreational properties. There are many chemical compounds synthesized by the cannabis plant, and about 70 of those are cannabinoids, all of which are similar but different to THC. There is evidence that cannabinoids in various forms, including CBD, can ease certain symptoms, and that they provide a wide variety of medicinal and therapeutic health benefits. Researchers have isolated and identified a number of other cannabinoids, including CBG, CBN, THC, CBC, and 8-THC. The so-called entourage effect occurs when there is a synergistic interaction of these cannabinoids takes place, i.e. when they work together within your body's endocannabinoid system and become more effective.
Terpenes are a group of active compounds produced alongside cannabinoids like THC and CBD. They have been found to have a range of medicinal and therapeutic applications in their own right, as they can enhance the other health benefits of the cannabis plant. While cannabis contains a plethora of other active ingredients and compounds, these are only present in trace amounts. More research is needed to evaluate their effects and potential benefits.
THC remains illegal in most countries
Tetrahydrocannabinol, or THC, is the chemical responsible for most of marijuana's psychoactive effects. The cannabis plant produces a great number of trichomes – or resin glands – that secrete THC. But what does THC actually do?
Cannabidiol, or CBD, is often confused with THC. Both substances are derived from the cannabis plant, but both have completely different and unique properties.
It's important to us to only sell CBD that meets the very highest standards of excellence so that users can get to know this fantastic product and reap all the benefits. That's exactly why we chose Medihemp as one of our main suppliers, as they are among the few companies in Europe whose products are in line with strict quality criteria, guaranteed to be free of pesticides, and are certified organic. We've made the ordering process as easy and convenient as possible, and always offer free shipping on any order over €25. Orders placed before 6 pm will be processed by us on the same day.
What are the differences with hemp seed oil?
There are several distinctions between hemp seed oil and cannabis oil. We are often asked what the correct dosage of hemp seed oil is. Hemp seed oil is extracted from the (cold-pressed) seeds of the hemp plant and is a rich source of healthy fats, vitamins, and minerals. Hemp seeds, however, do not contain any cannabinoids or any of the other active ingredients we often associate with cannabis products. Rather, hemp seed products are often used to supplement a healthy, active lifestyle because they're so-called "superfoods".
Hemp seed oil contains the following ingredients:
Cannabis oil is gaining increasing traction due to its medicinal and therapeutic benefits. THC oil, unlike hemp seed oil, contains a variety of active compounds and cannabinoids. Some well-known examples of cannabis oil include but are not limited to, CBD oil, THC oil, and Rick Simpson Oil.
Exploring the differences between cannabis oil highs
Different strains of cannabis may be used for different purposes and create different 'highs',
it is widely accepted that marijuana comes in two main strains, i.e. cannabis Indica and Cannabis Sativa. Sativa and Indica produce different effects when consumed: while Indica is known for its sedative effects, Sativa strains give a more energizing (or "high") experience.
By using a dropper and putting a few drops of your cannabis oil under your tongue and holding it there for thirty seconds or so, the solution will be absorbed through your sublingual tissue and into your bloodstream. Because this method allows the CBD to bypass the digestive system and prevents it from being broken down, this method of consumption is both rapid and effective.
Cannabis oil is a versatile product that is safe for both internal and topical use: it can be administered orally, rectally, topically, and sublingually. Each method of consumption has its own individual advantages. Topical CBD ointments are absorbed through the skin. Sublingual application is also a popular delivery method because it has several advantages over other consumption methods. Some people prefer to use suppositories, which are designed to be inserted into the rectum, vagina and to be broken down and quickly absorbed by the body.
Using for medicinal purposes
The cannabis plant is rich in various natural substances and compounds that can be used for a variety of different purposes. To create medicinal cannabis oil, these active compounds are filtered from the plant during the extraction process and subsequently mixed with a (neutral) carrier oil. Medicinal cannabis oil contains various cannabinoids, such as THC and CBD. Because the precise number of cannabinoids in the finished product depends on the strain of weed that the oil is extracted from, each batch will vary slightly.
Generally speaking, cannabis oil is not a lawful substance. This is because cannabis oil usually contains high concentrations of THC. CBD oil, on the other hand, is derived from the (legal) hemp plant, which belongs to the cannabis family. If you're interested in CBD oil, we are eager to help you find the right CBD product for your specific needs. We constantly invest in only the best products and brands and would recommend them to all of our customers.
If you're still interested in trying THC products, you'll want to know that you're working with a trustworthy vendor. Unfortunately, the world of cannabis abounds with grifters and scam artists looking to take advantage of people. You can try making THC oil yourself: in these cases, we recommend buying your cannabis from a dispensary/coffee shop, as they can tell you more about the active compounds in their cannabis and the potency of such compounds.
The endocannabinoid system
As we have demonstrated, hemp oil contains large quantities of CBD, which is why this oil is also known as CBD oil. Of the at least 113 cannabinoids that have been isolated to date, CBD and THC are among the most well-known. Scientists first discovered how cannabinoids work in the 1990s and found evidence that the human body actually produces its own "endogenous" cannabinoids using its native endocannabinoid system. Those cannabinoids are similar to the exogenous cannabinoids derived from the cannabis plant.
Research has shown that the endocannabinoid system plays an incredibly important role in the human body as it regulates, among other things, the following bodily functions:
The cannabinoids that are produced by the body interact with so-called receptors. In layman's terms, this means that they help the body communicate with itself and carry out a number of essential functions.
Cannabinoids are therefore indispensable for the proper functioning of the body. Research has shown that because hemp oil contains CBD – a well-known cannabinoid – it can affect the user's endocannabinoid system by interacting with specific receptors and help them function optimally.
CBD can, therefore, help regulate the body's natural functions. For example, CBD ensures that the body's endogenous cannabinoids are better absorbed. Considering these benefits, it's no wonder that CBD oil and CBD products are gaining such traction.
The potential applications
Cannabis' illegal status also makes it difficult to find funding for research. Because CBD, unlike THC, is legal, much more research has been done into the medicinal value of the former. Although scientific research into the therapeutic applications of CBD oil proceeds, there has been too little research evidence to draw any firm conclusions as of yet.
The right CBD dosage differs for each person. Different CBD products will have different strengths and potencies, and as you've undoubtedly already seen, there are many different products out there! That's why it's best to stick to the recommended dosage. In order to find the perfect dosage for you, however, it is very well possible that there may be a little experimenting involved. Just remember to always listen to your body.