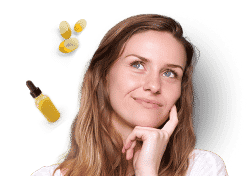 Do you want help choosing the best product for your situation?
Just answer these few questions.
CBD is available in many different forms, concentrations, packages, and from many brands. We understand that this can be confusing, and we want you to order the product that fits your specific situation best.
Therefore, you can fill out our advice form below for your personal CBD guidance. In order to provide you with the best advice possible, we ask you to describe your situation and complaints, short and to the point. We also ask you to indicate how you would like to take CBD, so we can recommend the best product for you at cbdsense.co.uk.
Important: We base our advice on our own experience and on the experiences of our customers. We cannot guarantee that a product will resolve your issues. Just as with prescription medication, there are certain situations on whom CBD has little or no effect.