Brand CBD per capsule (mg) Amount Percentage CBD
Only quality CBD products
All products in stock
Order before 18:00,
we ship it today!
Ultimate customer service


Need more reasons?
Click here!
These are capsules with a certain amount of CBD oil inside. There are no differences between regular CBD oil and the fluid inside these capsules. Only the intake differs from CBD oil because capsules are taken with water.
You can easily take the capsules with a glass of water.
The major benefit of capsules is that the CBD oil gets released in the stomach. For those who do not like the bitter flavour of regular CBD oil, the capsules are a good outcome!
You can take these capsules with you wherever you go. These products are very popular with people who travel a lot or are always on the go. The secondary advantage is that you take the same and the right amount of oil every time.
Yes, because the substance CBD is not psycho-active, CBD capsules are 100% legal in almost all of Europe.
Our CBD capsules are a convenient and easy-to-use alternative for CBD oil
If you want to benefit from the many positive health effects of CBD oil but aren't particularly fond of its taste, then you might be interested in our CBD capsules. These capsules are both tasteless and easily portable, making them easy to pack for times when you're on the go.
The CBD capsules contain the exact same oil you can buy in dropper bottles, and it's hardly a surprise that these capsules are becoming more popular by the day, as there are many advantages to using them. Our capsules are:
Completely odourless and tasteless
Always the perfect dose
Made from the best CBD oil, produced by Medihemp and Endoca
Easy when on the road or traveling
Made from industrial hemp plants
Vegan gel capsules
GMP-certified
Kosher
Free from gluten
Allergen-free
Fits in every diet
If you don't like the taste of CBD oil, consider taking capsules instead
While the advantages of taking CBD oil are numerous and its benefits abundant, its natural flavour can perhaps best be described as an acquired taste. While most people tend to get used to it, some people prefer a more tasteless and odourless alternative. Our CBD capsules are as portable, discreet, and simple to take as any other pill. Just swallow a capsule with a glass of water or another drink to enjoy all the benefits of this product.
Why should I take CBD capsules?
While tinctures and bottled CBD oils are perhaps the most popular way of ingesting CBD, our capsules contain exactly the same formula – they're just absorbed differently. While sublingual application allows the mucous membranes of the mouth to absorb CBD, the capsules will travel to your stomach, where they will release the oil, which will then absorbed through your digestive system.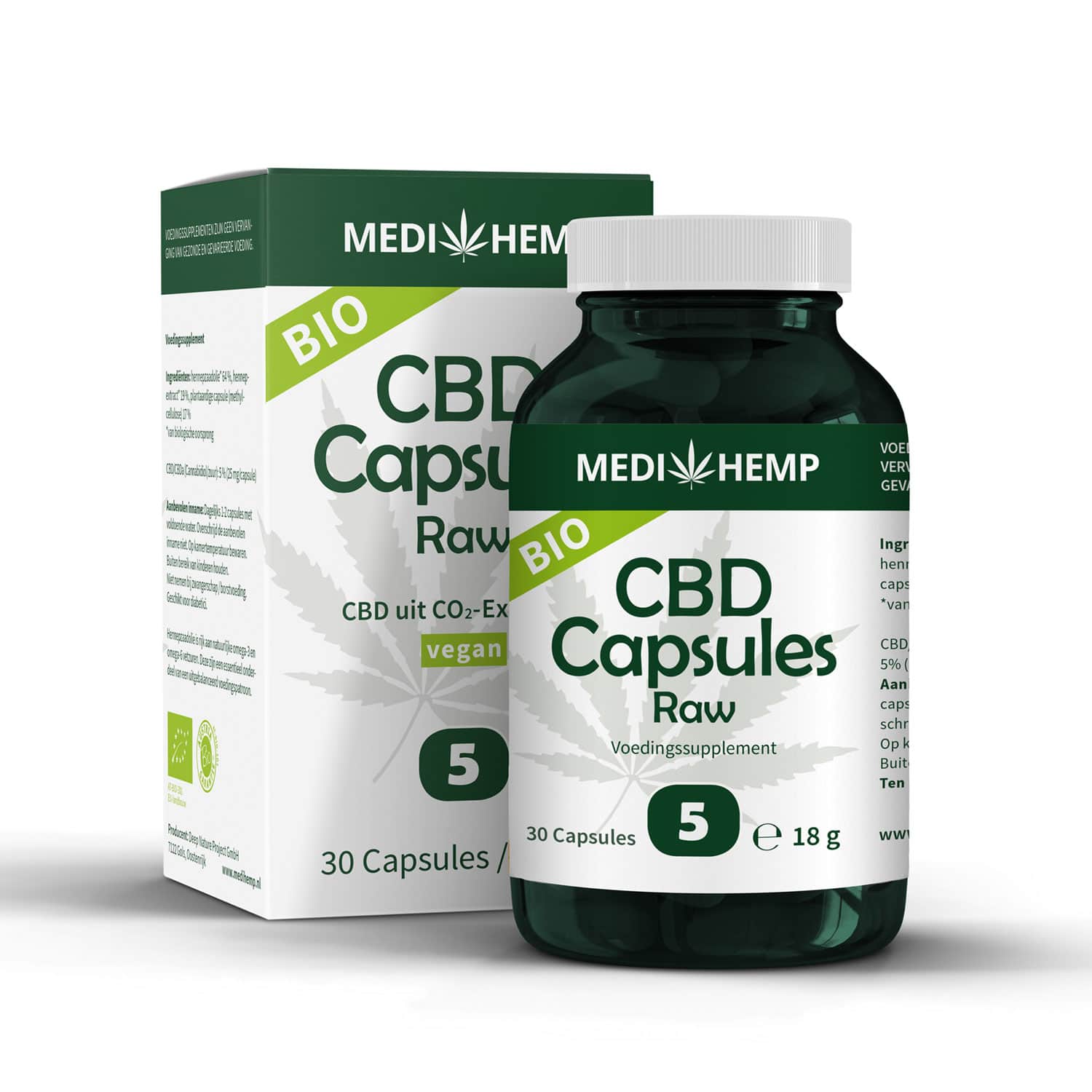 Vegan capsules
Most brands produce capsules that are 100% vegan. Not only does this make the capsules suitable for a much wider audience, but vegan capsules also tend to dissolve faster, allowing the CBD to be absorbed into the body even more rapidly.
Dosage per capsule
This depends on the variety of capsule you decide to purchase. In most cases, one capsule contains 10 drops of CBD oil of the indicated concentration (a 5% capsule, for example, normally contains 10 drops of 5% CBD oil).
Cold extraction
The hemp oil in these capsules has intentionally not been heated during the production process to ensure an optimal CBD(A) content. Both Endoca and Medihemp have opted for the cold extraction method in order to provide a pure and natural product.
Learn more about the different properties of CBD and CBD-A
CBD-A and CBD are both found in the natural, raw, hemp plant. Essentially, CBD-A is a precursor molecule found in raw, or unheated, forms of cannabis, which decarboxylates to CBD after exposure to heat. As such, people tend to be more familiar with the former than with the latter. Due to technological advances and optimised production processes, it is now possible to extract more CBD-A, which can offer a wide variety of health benefits.
Dosage
The effective doses of CBD vary from individual to individual, depending on a variety of factors. We recommend that you begin by taking one capsule per day for the first few days to see how you feel. If after two weeks you haven't achieved the desired effect, we recommend increasing your intake to two capsules per day.
How and when to take the capsules
We recommend placing the capsule on the tip of your tongue before taking a sip of water. Because CBD capsules are filled with an exact amount of CBD, they provide a convenient and accurate way to dose this product. You can take the capsules as needed, even on an empty stomach.
The difference between CBD oil and CBD capsules
What is the difference between bottled CBD oil and CBD capsules? The answer is remarkably straightforward: the only difference between the tincture and the capsules resides in the method of consumption, as both products contain the exact same formula.