Desserts with a hint of CBD
Are you planning on serving up a dish with CBD this Christmas or New Year's?
Christmas is nearly upon us and it will be a very different affair this year. Because of the corona virus, all restaurants will be closed, so we'll have to prepare our own Christmas dinners this year. And while this is fun and relaxing, it does come with some challenges. Not everyone is a dab hand at cooking, so let us apply our creativity to see if we can devise and serve up a delicious virtual CBD recipe for Christmas dinner. It may not be the traditional meal your parents or other family members are used to, but it is just the thing for the COVID times we are living in. Even if you have already decided on what you're going to prepare, an added dash of CBD can give it just that little something extra. Want to know how? Let us inspire you.
Cannabis dishes
The cannabis plant gives many options for adding a taste of CBD (or THC) to your celebratory Christmas or New Year's dinner.
Cannabis-based ingredients that you can always use in the kitchen when preparing breakfast, lunch or dinner, are:
Hemp seed oil with CBD (for cold dishes, salads and smoothies)
Cannabutter (weed butter) or CBD butter
CBD oil
CBD crystals
CBD edibles are currently extremely popular and the possibilities are huge. Naturally you could simply add a few drops of CBD oil and mix this through your dish. However, you can also make delicious dishes with our own CBD body or oil. Give it a try, it is actually very easy. There are a huge number of recipes for dishes like cannabis butter and other meals with cannabis available on the internet.
CBD edibles
On the orders of the ladies in the office, despite the possibility that the men might not quite approve, in this limit I am limiting myself to everyone's favourite course of the Christmas dinner, the dessert. This is how you can put something that's a little different on the table this December. Forget the traditional Christmas pudding, or the New Year's doughnuts: try our CBD desserts on New Year's Eve or New Year's Day instead.
Serve up these easy-to-make CBD edibles, and offer your guests a number of delicious, easy and quick desserts with just a hint of CBD.
CBD chocolate brownie trifle with salted caramel sauce (serves 4-6)
For the salted caramel sauce:
---
75 gr butter
125 ml cream for whipping
200 gr sugar
75 ml water
good shake of sea salt
For the trifle:
---
250 gram mascarpone
125 ml cream for whipping
2 tablespoons of sugar
handful of (sugared) almonds and/or pecan nuts
You can make the caramel sauce yourself with the ingredients described above, or opt for a ready-to-eat caramel sauce to save yourself time.
Prepare 4 small glass bowls for the trifle.
Preparation of caramel sauce
Use a deep saucepan (not a frying pan). Slowly bring to the bowl the 200 g of sugar with 75 ml of water on a medium heat, until the sugar mixture is a nice gold colour. Stay away from the pan until then! You do not stir the mixture until the sugar is golden-brown, and then you use a whisk. Carefully add the 125 ml of whipped cream. The mixture will bubble and rise, this is normal, but keep stirring for 1-2 minutes until the caramel sauce starts to thicken. Remove the pan from the heat and allow the sauce to cool for 2-3 minutes. Then add 75 g of butter cut into blocks and a good pinch of sea salt, and stir these in well. Pour the caramel sauce into a small jar or glass. Tip: in order to get the saucepan properly clean, immediately fill it with hot water and a drop of washing-up liquid.
Make the trifle:
Whip the 125 ml of cream with the 2 tablespoons of sugar until firm, but not completely stiff. Spoon the mascarpone gently into the whipped cream and fold it in carefully. Now cut the 2 CBD brownies into small blocks. Take the 4 glass bowls and divide the brownie blocks into them, then layer in the mascarpone and cream mixture and the salted caramel sauce. Finish with the mascarpone mixture and the caramel sauce. For the finish touch, sprinkle the tops of the desserts with roughly chopped sugared almonds and/or pecan nuts. Enjoy!
There are many days in Christmas, so naturally you will want to have a little culinary variety. The following dessert is even less difficult than the previous dessert, but really delicious and in different varieties.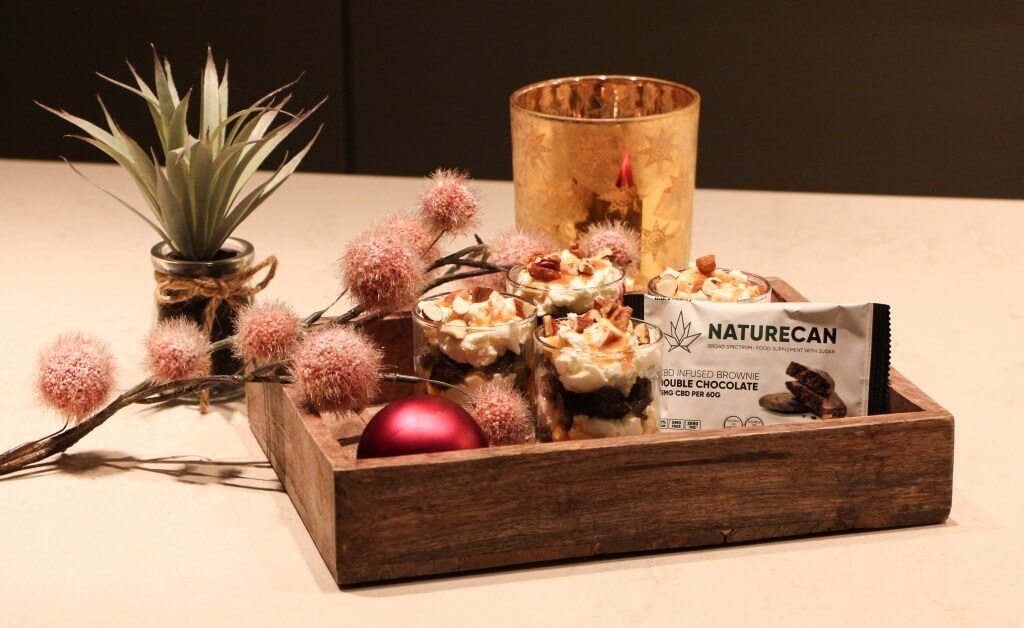 Layered CBD chocolate cookies dessert (serves 4-6)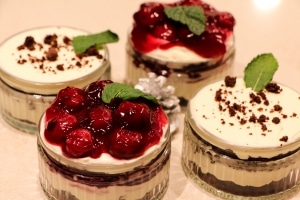 Ingredients in basic recipe:
---
3 CBD chocolate cookies with crispy bits
200 gr MonChou or another brand of cream cheese
250 ml cream for whipping
3 tablespoons of sugar
mint leaves for garnish
Preparation of basic recipe:
Mix the MonChou or cream cheese in the mixer so it becomes creamy. Add the whipping cream and 3 tablespoons of sugar and mix until it all becomes very creamy.
Crumble the CBD cookies by hand. These have delicious crispy bits and using a wand mixer to crumble them would only pulverise the crispy bits. Put half of the cookie crumbs in the bottom of the glass bowls. Divide half of the cream mixture over the cookies. Put another layer of the cookies on top of this. Finish with a layer of the cream mixture on top. Then decorate the top with a few crumbs and a mint leaf for the finishing touch. Let the CBD dessert sit in the fridge for at least an hour to stiffen it up.
Variation 1 with fruity tart filling:
---
Extra ingredient: 1 tin of baking fruit or fruit flan filling of cherries, strawberries or fruits of the forest (you decide on the flavour and the amount)
Follow the basic recipe as above. After each layer of cream mixture, add a tablespoon (or more as required) of fruit and garnish the top with some CBD cookie crumbs. A little green mint leaf adds a touch of colour to a tasty dessert.
Variation 2 with CBD chocolate cookies with orange flavour:
---
Instead of using CBD Chocolate cookies, use CBD Chocolate cookies orange and follow the basic recipe.
Variation 3 with strained yoghurt (make the day before):
---
Make the dessert less sweet by using strained yoghurt instead of a MonChou/cream cheese mixture.
Ingredients for 4-6 people:
4-5 CBD chocolate cookies or CBD cookies with orange flavour
1 litre full-fat yoghurt
125 ml cream for whipping
3 tablespoons of sugar
Preparation:
Start making the dessert the day before by straining the yoghurt. Use a high bowl and put a sieve in it. Note: the sieve should not touch the bottom of the bowl. Get a clean tea-towel and wet it with water. Squeeze out the extra moisture very well and put this in the sieve. Carefully pour the yoghurt into the t-towel and the sieve. Cover the entire thing with cling film and put it into the fridge overnight (for a minimum of 6 hours). Make sure that the yoghurt does not dip into the moisture that has come out of it.
Or you could do what my grandmother did, pour the yoghurt into a tea-towel, and hang it in the cellar overnight, with a bowl underneath it to catch the moisture.
The next day you should be left with a delicious, thick strained yoghurt. Beat the whipping cream with the sugar until it's thickened, but not stiff. Remove the strained yoghurt from the tea-towel and fold this into the whipped cream and sugar. Then follow the same steps in the basic recipe, but instead of using the MonChou/cream cheese mixture, use the strained yoghurt mixture. Enjoy!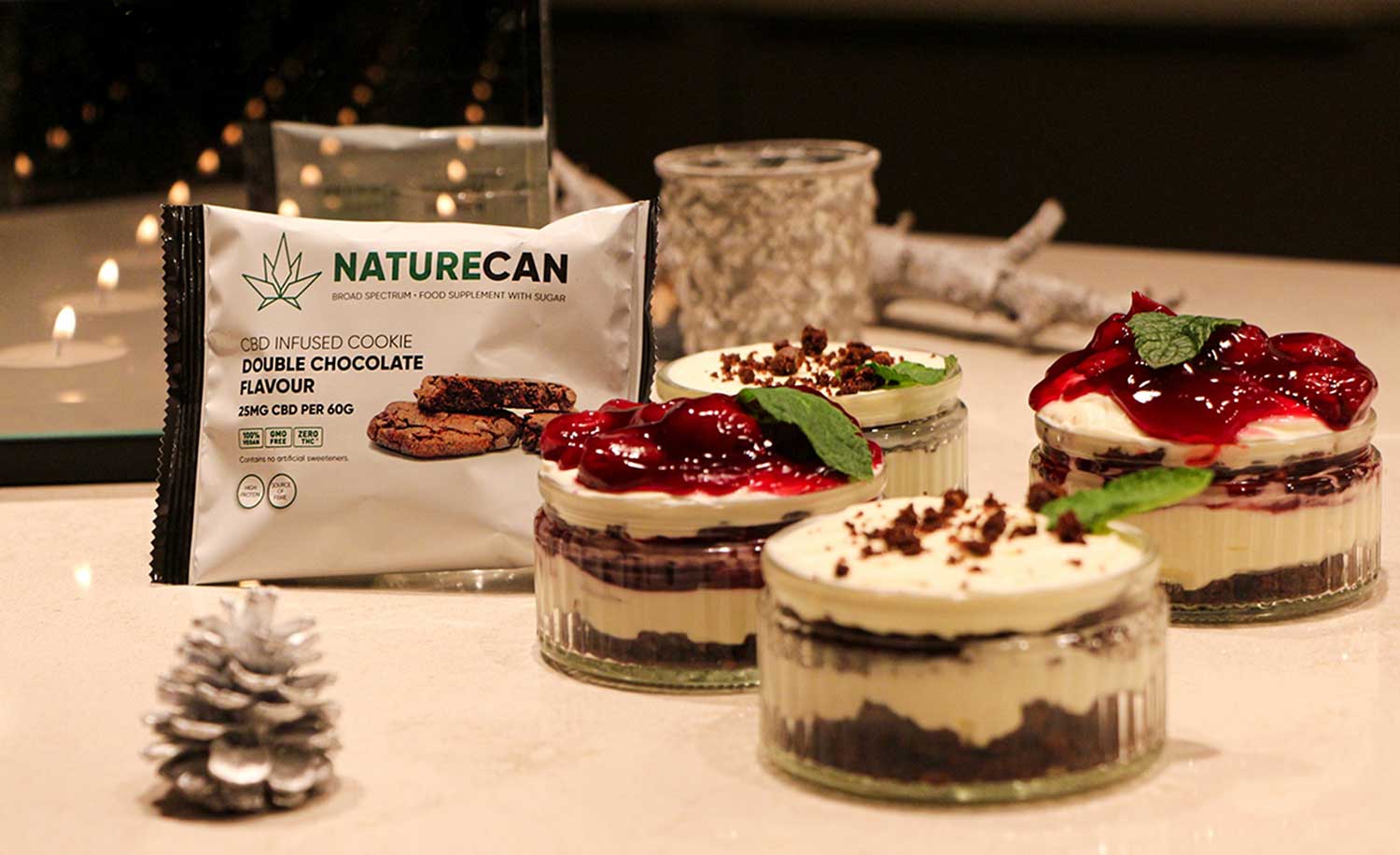 CBD treats
For less ambitious chefs, or the "I-have-neither-the-time-nor-the-inclination-to-stand-in-the-kitchen" brigade, I have one last option.
Put out a plate of self-opened confectionery biscuits for with the tea or coffee.
Recommended suggestions:
CBD milk chocolate (easy to break into 4 pieces)
CBD dark chocolate (easy to break into 4 pieces)
CBD chocolate cookie
CBD chocolate cookie with orange flavour
CBD brownie
None of these CBD treats have an overpowering taste of hemp or weed. Even better, once you or your guests have tasted them, you will certainly be a fan of these delicious delicacies. Enjoy!
Happy Holidays!
The entire CBDsense teams wishes you the very best of the season, and a happy, healthy and loving 2021!
Stay safe in these difficult times of Corona and take good care of yourself and your loved ones.
by Bernard Vos
Bernard finds his passion in researching, creating and sharing content about medicinal cannabis and everything that relates to this mysterious and interesting plant. Besides the work he does as a microbiologist, Bernard is an inspiring blogger. He helps us to stay up-to-date about all trends and developments concerning CBD, medical cannabis, and much more. Do you have any questions? Feel free to contact us via the contact form or Bernard directly. Bernard can be reached directly by sending your message to b.vos@cbdsense.com.
Read more articles by Bernard Vos